The Benefits of an Air Conditioner Tune Up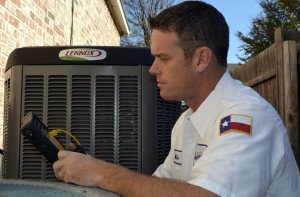 When you say tune up, most people think of cars. But just as your vehicle needs a little attention from time to time in order to run smoothly, so does the air conditioner in your home or office. Your home AC unit is the biggest and most energy-using piece of equipment in your house, so it's vital that you keep it running smoothly year after year. There are several benefits:
What is an Air Conditioner Tune Up?
We often get asked what goes into a tune up. Good question. A tune up is designed to conduct a thorough inspection of every component in your air conditioning system. This covers a number of items such as:
Calibrating and leveling the Thermostat for accuracy
Filter Cleaning and replacement
Check motor power to make sure you're getting maximum power.
All fluids and lubricant levels are check and replaced.
Condenser Coil
All electrical connections inspected and tightened
All broken parts are replaced
Inspect condensation drain for blockage and ensure free flow.
Compressor checked
Plus other fringe inspections.
All of these items must be cleaned, tightened, replaced, and inspected to make sure that the entire system is running efficiently.
Save Energy
The difference between a healthy air conditioner and one that is neglected is like day and night. A worn down AC runs like an airplane with 3 engines out and 1 operating. Sure, you can get the job done, but you are wasting a ton of energy. On average, equipment that is running at peak performance runs 30-50% greater than one that operating with a handicap. A tune up keeps the entire system healthy and running smooth.
Save Money
A tune up avoids two major money wasters. First, the difference between preventative maintenance and repairs is staggering. Both labor costs and equipment or whole system replacement factors into repairs. This can cost you hundreds or thousands of dollars. The second punch you'll feel from a poorly running AC unit is in your electric bill every month. As your air conditioner gets worse and worse, it requires more energy to operate, and this will greatly affect your utility bill each month.
Dependability
One of the main reasons why it is important to have your home's air conditioner unit running smooth is so that it's there when you need it most. Fort Worth, Texas is subject to both scorching summers and bitter winters. So when August or January arrives and the temperatures run extreme, the last thing you want is for your AC system to go out and leave you in an emergency situation. Your family's comfort and security are important. A tune up will insure that you can depend on your air conditioner no matter what the temperature is outside.